We sat down with Emilie of Dans le Sac to talk to chat with them about the origins of Dans le Sac, their manufacturing process, and their motivations for creating.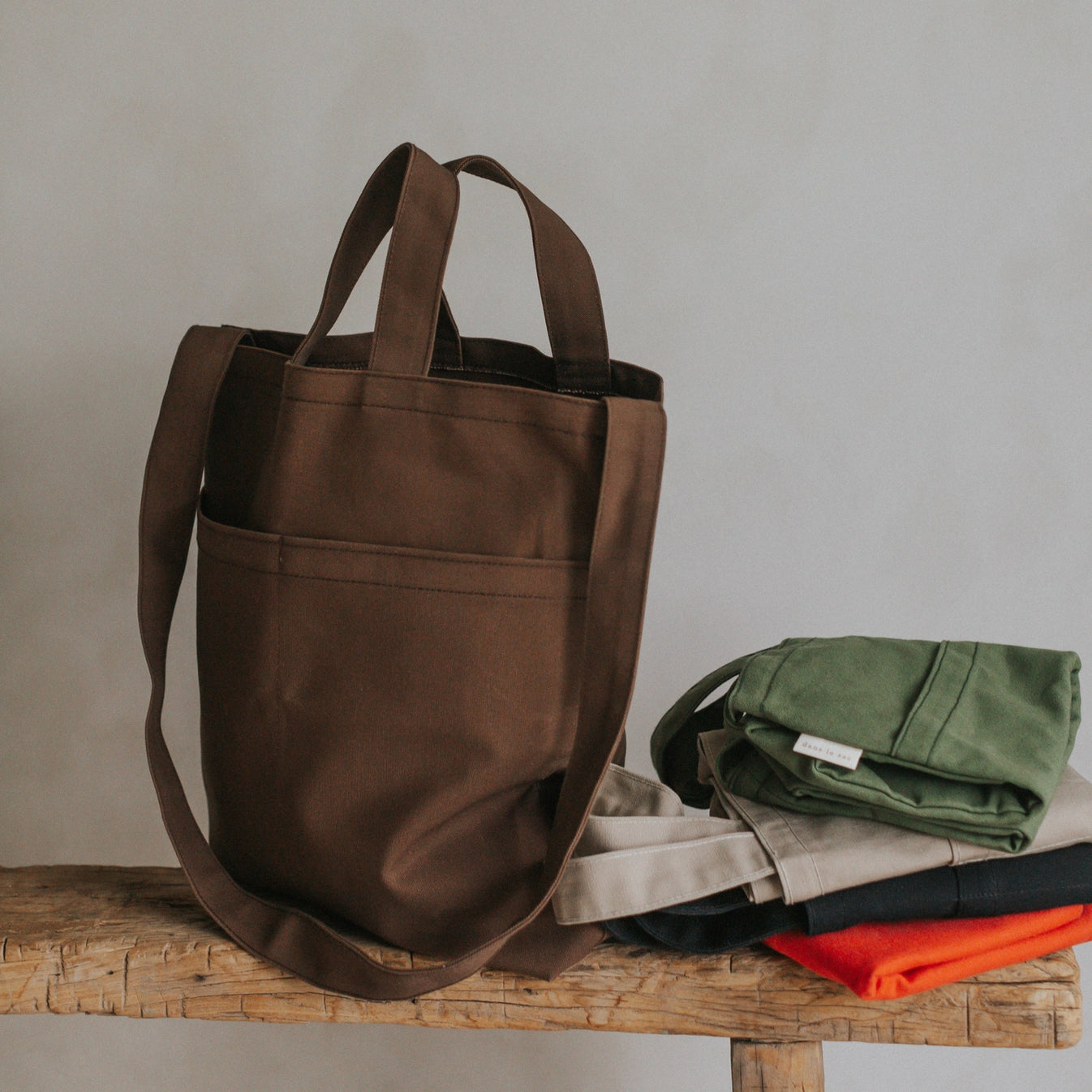 How did you end up choosing the name Dans le Sac?
It was a difficult choice since we wanted a short and catchy name while remaining simple, but initially we only had the bread bag as a product so after some visual tests of the logo we settled on Dans le Sac.

How did Dans le Sac come to be, and why did you decide to make bags, especially ones centered around use (bread bag) versus purely accessory purses?
We created the bread bag because we wanted a reusable bag that would keep our bread fresh when we left the bakery. We were initially using a pillowcase but it wasn't optimal. The idea of creating a bag that would fit all sizes of bread and be made of natural cotton came to us. That's how our first bag was created!
Tell us about your process. How do you come up with your designs, and how are the pieces manufactured?

We try to create items that will be the most practical while being aesthetic. For the design of our bags, we always base ourselves on a minimalist style because it is what inspires us on a daily basis. Then our pieces are handmade by wonderful seamstresses in the Eastern Townships region of Quebec. 

You mention on your website that most of your products involve around 4 local businesses in Quebec. Who are some of those partners and what roles do they play in production?

We work with a lot of wonderful people in the area, from translators, graphic designers, printers, marketers, craftspeople, etc. We have the aforementioned fabrication shop. This is where the magic happens. There's the warehouse, also in Quebec, which prepares orders for our customers and different companies for printing and different companies for the printing and manufacturing of the labels.


How do your philosophies about sustainability influence how you run Dans le Sac?
We created Dans le sac to inspire change. For us, preserving the environment
is more than a passion, it's a way of life. Making our own cosmetics,
household products and composting has been a part of our lives for many years, but it was in May 2016 that we decided to create Dans le Sac to inspire change on a larger scale. So, inspiring people with the positive became our mission. We knew we could make a difference by offering simple and effective solutions that respect our health and the planet's health. Since then, we have been developing sustainable products that make our daily lives easier and our daily lives while reducing our ecological footprint.

Where do you see the company going? Is where you are now what you were expecting when you started?
At the beginning, we never imagined that Dans le Sac would be a big undertaking. So it's a huge surprise to see where we are 6 years later. We are living the
the Dans le Sac experience day by day and we are already so grateful for the customer response to our project. Without them, Dans le Sac would not be where we are now and who knows what the future holds.

I asked you what made you decide to start Dans le Sac, but what makes you want to keep it going? What inspires you on a day-to-day basis to keep creating?
As mentioned in the previous answer, our clientele is our motivation to pursue this
to pursue this beautiful project. Their support and response drives us to want to create and why we created Dans le Sac. We love to think and create simple and functional products that will be used in your homes to make them homes to make them more environmentally friendly. The environment and the preservation of nature are also are also great sources of motivation.