Green Bean Boutique
Regular price
$150.00 USD
Regular price
Sale price
$150.00 USD
Unit price
per
Sale
Sold out
A luxuriously pink pick-n-mix of body care product & accessories.
This gift box includes pairs items with longevity (make-up bag, hair claw, & decorative tile) with fun bath accessories for an oh so sweet gift that's pretty, pink, and pampers.
Gift Set Includes:

~(1) Glass Tile Cube in Pink Himalayan Milk Chocolate
Handcrafted checkered tile cubes are a unique way to store all your knick knacks, display your favorite jewelries and perfumes, or showcase your collective pieces.
Pair it with your favorite flower vase for an aesthetic vibe.
Dimensions: 4in x 4in x 1in
Materials: High-quality glass tiles that can handle high temperatures well
~(1) Shower Steamer in Jasmine + Amber by Thulisa Naturals
Transform your shower into an aromatic spa experience with these Jasmine + Amber Shower Steamers. The sweet floral notes of Jasmine combined with the slightly smoky aroma of Amber create a rich scent that will take you to the sun-kissed Mediterranean coast. Each box contains 4 shower steamers. Packaging is certified compostable.

~(1)  Midi Heirloom Claw in Bright Pink by MACHETE
The Midi Claw is arguably MACHETE's most versatile hair accessory. Suitable for nearly any hair type, length, texture, this claw is the perfect accessory for an elevated, effortless look you can wear every day. Dimensions: 1.75" x 3.5. Handmade in Italy from Cellulose Acetate.
~(1)  Salt Soak in Coconut + Rose by Native Nectar
Slip into indulgence with this Coconut Milk, Himalayan Pink Salt and Rose Petal Salt Soak, formulated to soften and revitalize skin, while sensual oils of Jasmine and Ylang Ylang soothe your senses. Simply add desired amount to a warm bath for some much needed self-love! 9 oz Glass Bottle.
~(1)  Small Grid-Stitch Toiletry Bag in Pink by Anchal
Designed to hold your travel necessities - think toothbrush, face wash and moisturizer - this compact toiletry bag is lightweight and easily fits into any sized bag or luggage. Its small size is perfect for the minimalist who prefers to keep their routine down to just the basics. Size: 8.25"L x 2"W x 2.25"H. Made with 100% organic cotton, ethically hand stitched in India.

Everything comes ready-to-gift, all wrapped up in our Green & Bean compostable gift box!

Share
View full details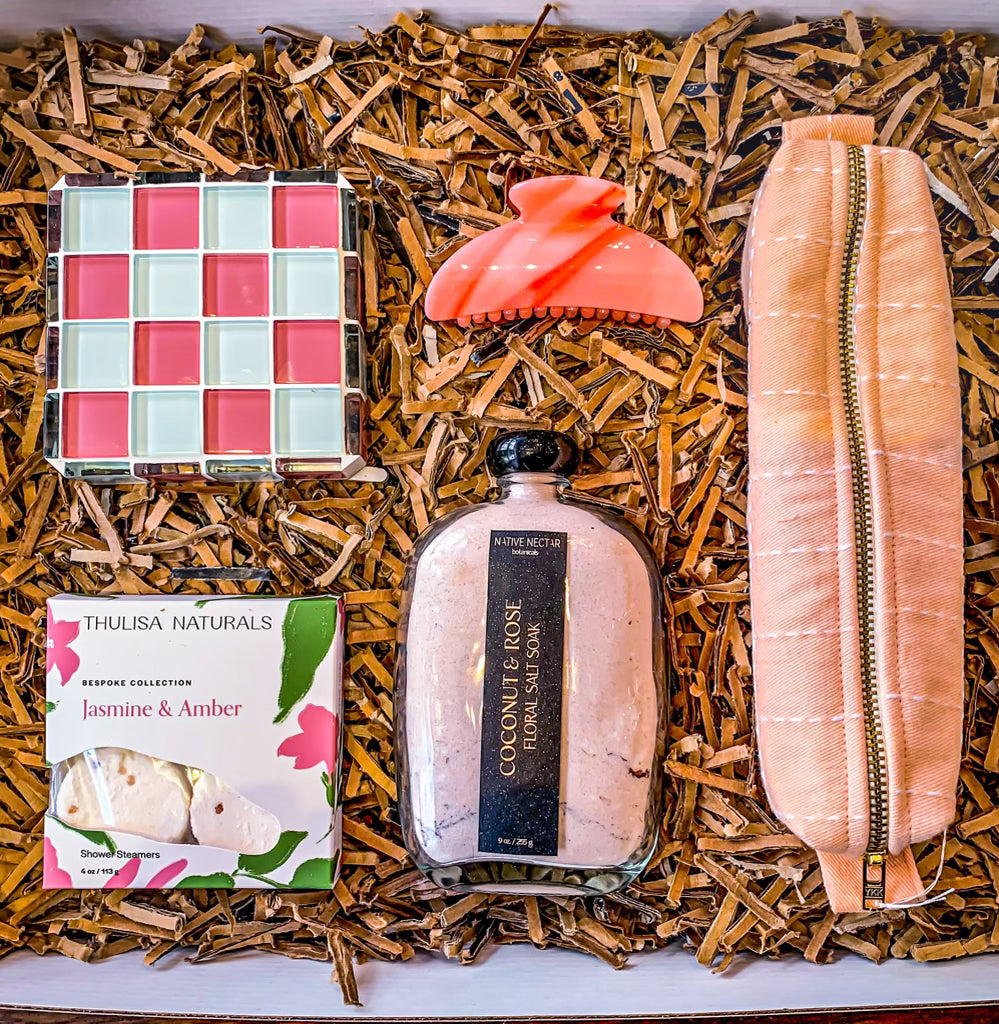 Want to add a greeting card?
All greeting cards 25% off with the purchase of a gift box (discount automatically applied)