Green Bean Boutique
Regular price
Sale price
$76.00 USD
Unit price
per
Sale
Sold out
Gift Box 1 ~
Contains:
~ (1) Changing Mat by Dans le Sac
This changing mat is padded to ensure the comfort of your little one, and it closes with a press stud to easily carry it everywhere. It has an internal elastic pocket to store wipes or any other accessories. Very practical to have all the items quickly at hand for an effective diaper change!
Care: Machine washable in cold water. Hang to dry. Add sodium percarbonate to the detergent to remove stain
Exterior: 100% cotton
Padding: Polyester
Dimensions: open 27.5 in x 13.5 in; folded 10 in x 13.5 in
~ (1) Olive Latte by Dos Alquemistas (2A)
An alternative latte with an olive leaf base. Enhanced with cacao, coconut sugar, and just a hint of chili, 2A's Olive Latte is the essence of the Mediterranean in a mug. Caffeine-free.

Ingredients: Olive Dust*, Cacao*, Coconut sugar*, cinnamon*, cardamon* , chili*. * of organic farming.
How to use: Whisk one teaspoon of Olive Latte with a dash of hot water until dissolved. Add your favorite hot mylk. We love our latte with oat- or almond milk. Net weight: 70g. 30 servings.
Gift Box 2 ~
Contains:
~ (1) Organic Muslin Swaddle in Seedling by Wee Gallery
~ (1) Organic Muslin Swaddle in Wild by Wee Gallery
Wee Gallery's eco-friendly organic muslin Swaddles make baby, mom, and planet happy!
These soft baby wraps are generously sized to be versatile enough as a swaddle blanket or stroller cover, and in the car seat, crib or changing table.
Made in India using organic fabric and sustainable practices. 100% cotton
Sure to become your go-to baby gift because of its adorable packaging and high quality.
~(1) Olive Leaf Tea with Lemon Verbena & Spearmint
Ingredients: 60% olive leaf*, lemon peel*, spearmint*, lemon verbena*, essential oil of the sea fennel. *of organic farming.
Net weight: 70g.
Serving: 25 cups or 50 with a delicious second flush.
Hot brew: steam 10 grams in one litre of hot water for 7 to 10 minutes.
Cold brew: Add 15 grams to one litre of cold water and let it macerate in a closed jar in the fridge for 14 hours. Strain. and sweeten to your liking with honey.
Btw: 2A Bags are 100% compostable.
Gift Box 3 ~
Contains:
~ (1) Quilted Play Mat by Dans le Sac
A padded play mat that allows baby to lie down or stretch their little legs in complete comfort. Its neutral colors will match any decor while allowing baby to explore safely. Use it indoors or outdoors. Folds and transports easily thanks to its carrying bag. When your little one gets older you can use it as a bed throw to give it a second life.
Care: Machine wash on gentle cycle. Hang to dry. *Expect carpet shrinkage after washing. Use a stain remover soap for stubborn stains.
Exterior: 100% cotton Padding: Polyester Dimensions: 35.3" x 35.3"
~ (1) Mini Masala Chai Concentrate by DONA
Masala Chai in a mini bottle perfect for corporate gifting, party favors, or customized boxes & bundles. 8oz glass bottle.
Dona's Masala Chai Concentrate is perfectly spiced and lightly-sweetened. Brewed in small-batches with single origin & direct trade spices. Ground fresh and slow steeped.
Notes of organic black tea, green cardamom, ginger, cinnamon, cloves and black peppercorn in every sip. Quality matters. Our beverages are made with the best ingredients selected for their naturally sweet qualities so we add less sugar.
HOW-TO LATTE: Mix equal parts DONA concentrate and plant based milk.
Ingredients Purified water, sugar, ginger, cinnamon, green cardamom, organic black tea, molasses, black pepper, cloves, citric acid.
Gift Box 4 ~
Contains:
~ (1) Butterfly Pea Tea by The Qi
Butterfly Pea Tea is a fragrant, caffeine-free herbal tea made from the dried flowers of the Clitoria ternatea plant. It has a light, sweet taste and a beautiful blue-violet color that changes when mixed with lemon juice and other types of citrus fruit juices.
Its unique flavor and beautiful color make it a perfect addition to any beverage menu. Its health benefits include stress relief, improved cognitive performance, and potential anti-aging properties. In addition, Butterfly Pea Tea is high in antioxidants, vitamins, and minerals that make it a great beverage choice for anyone looking to improve their overall health.
Enjoy the unique flavor and beautiful hue of Butterfly Pea Tea, and experience the many health benefits it offers.
Single Ingredient: Butterfly pea. 

[ ✓ ] Organically grown    
[ ✓ ] Vegan  
[ ✓ ] Zero calories 
[ ✓ ] Non-GMO 
[ ✓ ] Naturally caffeine-free
~ (1) Self Reflections Pad by Wilde House Paper
A lightly guided pad intended to carve out space to pause and take inventory of your inner and outer self. By putting words to your emotional state and by checking in with your physical well-being, the Self Reflections Pad connects you with your current self and allows you to align with a path forward.
5.5'' x 8.5'' 50 sheets.
Printed on luxe recycled stock made from 30% post-consumer waste. Thick chipboard backing.
~ (1) Lavender Geranium Shower Steamers by Thulisa Naturals
Add luxury to your shower with our Calm shower steamers. Infused with calming scents of Lavender and Geranium essential oils, all you need is to place one (or a couple) on the floor of your shower away from the direct stream of water.
Let the shower steam release the relaxing aromatherapy vapors of Lavender and Geranium essential oils into the air. Breathe in deeply and relax.
The clear bags we use to package our shower steamers and fizzy bars are made from PLA and are certified compostable. PLA is a plant-based compostable bioplastic derived from plant sugars. Each pack contains 4 shower steamers
~ (1) Pinot Grigio Chocolate by Dirty Bean Chocolate
Dried Pinot Grigio infused in single-origin cacao for a vibrant chocolate experience.
Vegan, direct trade chocolate, sweetened with coconut sugar. Dirty Bean Chocolate draws inspiration from ancient chocolate-making practices, contemporary mixology and modern nutritional science.
INGREDIENTS: Cacao beans, coconut sugar, cacao butter, pinot grigio 
Share
View full details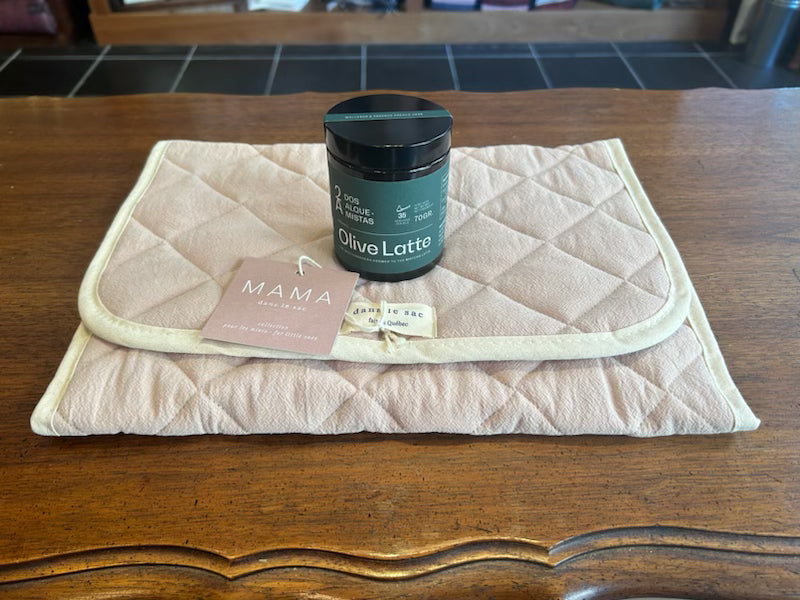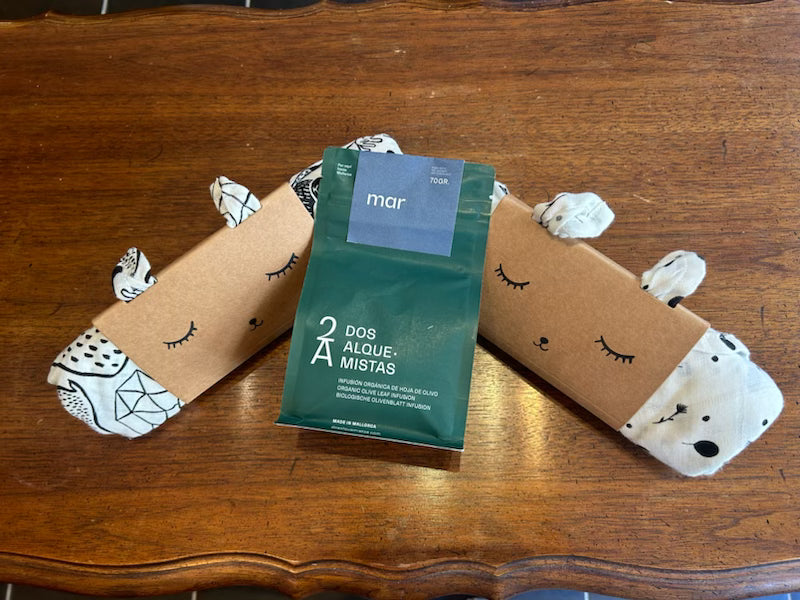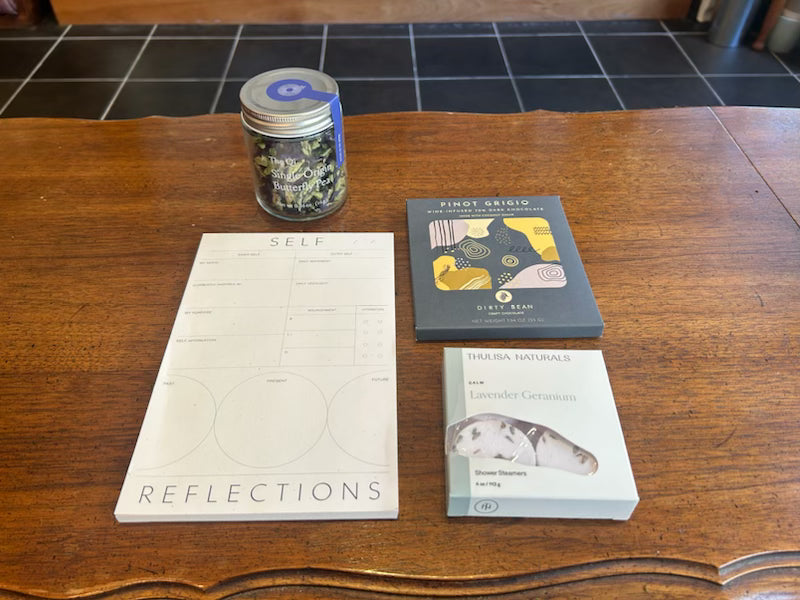 Want to add a greeting card?
All greeting cards 25% off with the purchase of a gift box (discount automatically applied)