Green Bean Boutique
Regular price
$115.00 USD
Regular price
Sale price
$115.00 USD
Unit price
per
Sale
Sold out
A floral symphony designed to transport you to a haven of tranquility.
Escape into a world of blossoms and tranquility with our "Floral Haven Harmony" Gift Box. This themed gift explores eco-friendly elegance, where each thoughtfully curated item is designed to bring joy to both the recipient and the planet.
A floral wooden tray, a natural bath tea, a sampler of blooming flowers to drink and a decadent chocolate ~  whether you're treating yourself or surprising a loved one, the "Serenity Blooms" Gift Box is a thoughtful gesture, inviting moments of calm and delight with the essence of flowers in bloom. 
Perfect for: Birthdays, anniversaries, care package, Moms, flower lovers, bridal shower & related wedding events

Gift Set Includes:
~(1) Herbal Bath Tea by Star Bright Farms
Sink into relaxation with a bath infused with a blend of calming herbs for your mind, body and soul. Breath in the gentle fragrance of our Star Bright Farm grown dried botanicals. All of your herbs are grown following the principles of regenerative and organic farming.
A wooden scoop and 3 tea bags included
57 Grams
Ingredients: Organic Corn Flower, Organic Avena Sativa ( Oats), Organic Chamomile Flowers, Organic French Lavender Buds, Organic Rose Flowers, Organic Calendula Flowers
~(1) Tea Sampler by The Qi
Want to destress? Sample all three types of The Qi flowers in this Floral Tasting Sampler box for some much needed joy, beauty, and inner calm.
Each flower is good for 2 more refills of hot water in a 6-7oz cup. Contains (3 flower packs/9 cups): 1 x Individually Packed Organically grown Blue Lotus flower 1 x
Individually Packed Organically grown Royal Chrysanthemum flower 1 x Individually Packed Organically grown Shangri-la Rose flower Naturally caffeine-free | Zero calories | Vegan | Non-GMO
~(1) Wild Blueberry Chocolate by Goodio
Unique combination of chocolate and wild blueberries gathered from the Finnish wilderness. Ingredients: Cacao bean*, coconut palm sugar*, cacao butter*, coconut flake*, blueberry powder* *organic Chocolate, minimum 61% cacao content. May contain nuts: cashews. Vegan, gluten-free and soy-free. Net weight: 48g / 1.7oz This bar is proudly handmade with love in Finland - the happiest country in the world by Goodio Chocolate Artists.
~(1) Mini Tray in Alice Lavender by Wolfum
These mini trays are perfect for an entryway, desktop or vanity catch-all. In conjunction with Wolfum's classic trays (they fit perfectly inside) you can mix and match the bold patterns and colors.
Colors: pink black, lavender, fuschia, white, natural wood
Dimensions: 12.25"X6"X1.25". Hand printed
Content: Hand printed FSC certified Baltic Birch
Care: wipe clean with damp cloth, keep out of direct sunlight
~(To Garnish) Floral Confetti by Green & Bean
A subtle, but important touch to decorate the body of the gift.
100% locally grown & dried flowers
Everything comes ready-to-gift, all wrapped up in our Green & Bean compostable gift box!
Share
View full details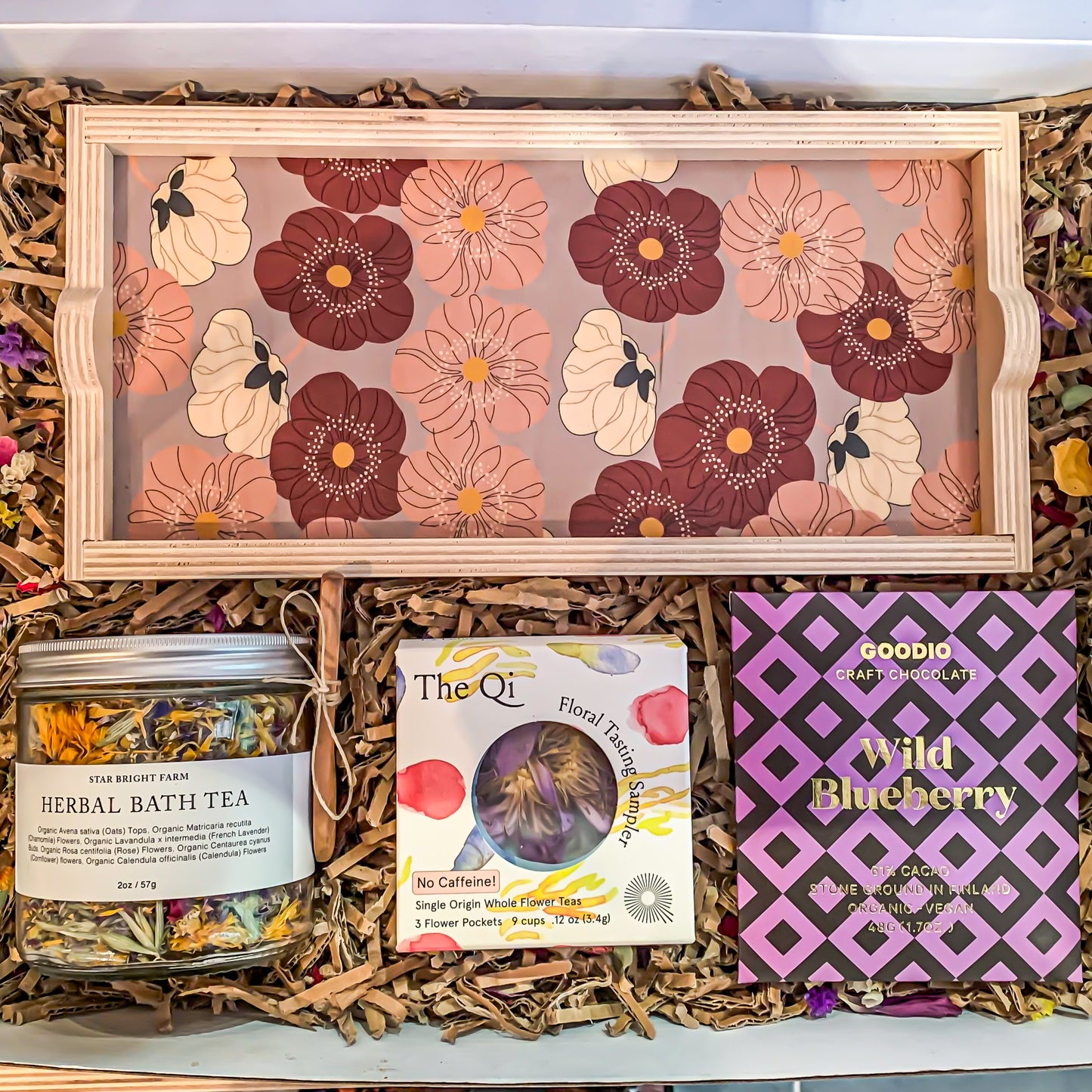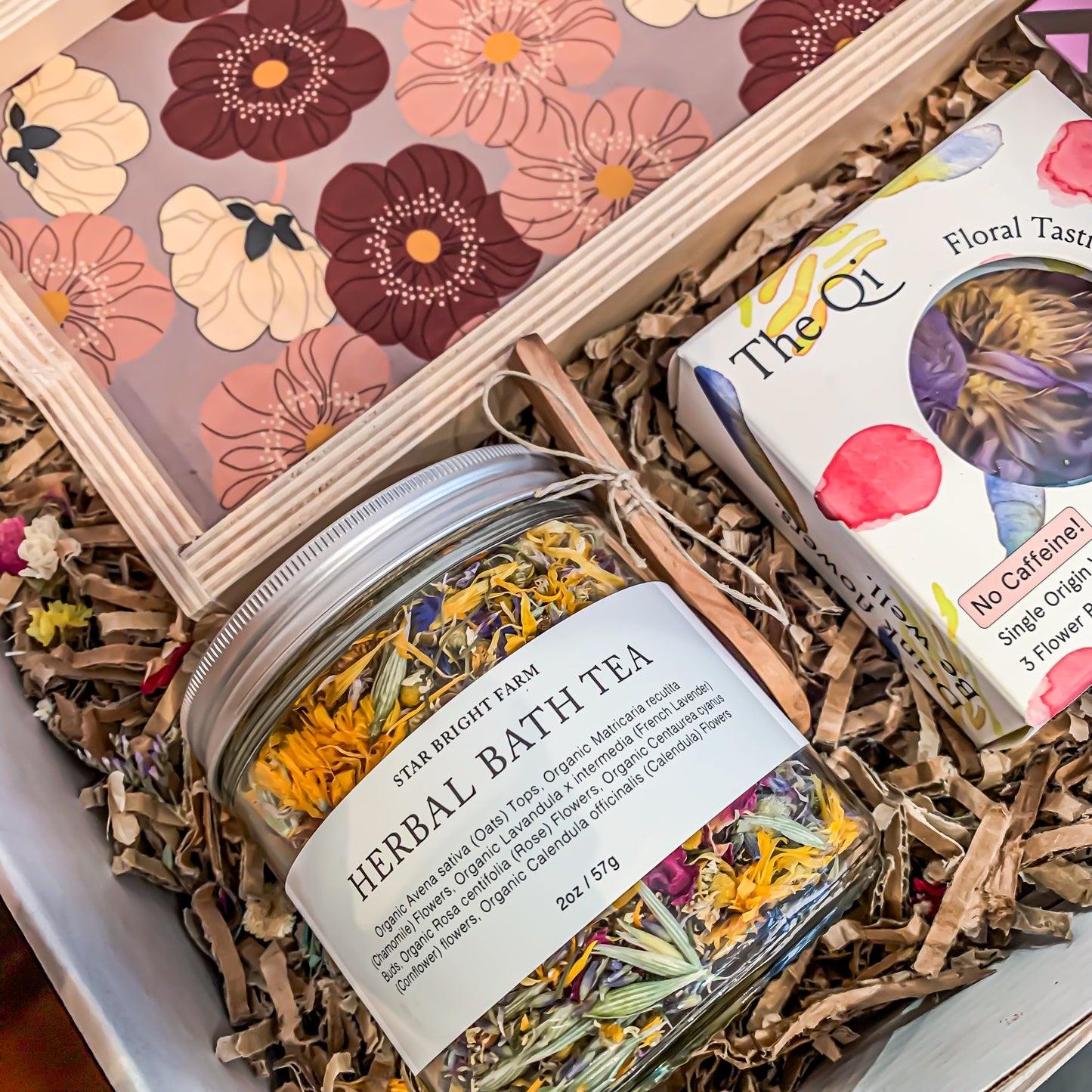 Want to add a greeting card?
All greeting cards 25% off with the purchase of a gift box (discount automatically applied)