Green Bean Boutique
Regular price
$105.00 USD
Regular price
Sale price
$105.00 USD
Unit price
per
Sale
Sold out
The ultimate floral gift box is here! Featuring chamomile, butterfly pea, and roses.
With a scrumptious candied chamomile lavender chocolate that absolutely tastes as good as it sounds, rose bath soak, butterfly pea tea, and a bag of dried roses, Flower Power is the a celebration of flowers in a multitude of ways. Add a plantable seed card to really elevate this thematic present!
Perfect Gift For: gardeners, thank yous, housewarmings & hosts, Mom, care package
Gift Box Includes:
~ (1) Panneer Rose by Diaspora Co.
Your rose petals are organically grown by Parvathi Menon and her wonderful team on a 10 acre farm in northern Tamil Nadu.
After two years of trial and error, Parvathi finally figured out how to grow the Damask Rose (or Panneer Rose in Tamil), that whilst prized for being incredibly fragrant, is also known to be extremely delicate and very high maintenance, especially when grown regeneratively, without pesticides.
Since the rose petals need to be processed every day when they are perfectly in bloom, Parvathi designed an ingenious solar powered dehydration system that is just gentle enough to help the petals retain their deep colouring and lock in their renowned fragrance.
Grind small batches into coffee beans, top desserts with bursts of pink, and even steeping a small spoon in hot water for a delicious, simple rose tea.
Ingredient: 100% Panneer Rose
~ (1) Candied Chamomile Chocolate by Goodio
Candies, flowers, and hazy summer hours... Goodio x Ivana Helsinki is a unique collaboration between two Finnish indie brands. Embrace the Northern oddity and distinctive design with the exclusive craft chocolates designed together with the Ivana Helsinki Flower Fields Forever -collection.
INGREDIENTS: Cacao beans*, Coconut palm sugar*, Cacao butter*, Coconut flakes*, Maple syrup*, Chamomile*. (*Organic). May contain traces of nuts (cashew).
~ (1)"Coconut & Rose" Bath Soak by Native Nectar Botanicals
Slip into indulgence with this Coconut Milk, Himalayan Pink Salt and Rose Petal Salt Soak, formulated to soften and revitalize skin, while sensual oils of Jasmine and Ylang Ylang soothe your senses. Simply add desired amount to a warm bath for some much needed self-love!

Ingredients: Pink Himalayan Salt, Coconut Milk Powder, dried Rose petals, Jasmine (Jasminum officinale) essential oil, Ylang Ylang (Cananga odorata) essential oil, natural coconut scent. Comes in decorative 9 oz glass bottle.
~ (1) Butterfly Pea Tea by the Qi
Butterfly Pea Tea is a fragrant, caffeine-free herbal tea made from the dried flowers of the Clitoria ternatea plant. It has a light, sweet taste and a beautiful blue-violet color that changes when mixed with lemon juice and other types of citrus fruit juices.
Its unique flavor and beautiful color make it a perfect addition to any beverage menu. Its health benefits include stress relief, improved cognitive performance, and potential anti-aging properties. In addition, Butterfly Pea Tea is high in antioxidants, vitamins, and minerals that make it a great beverage choice for anyone looking to improve their overall health.
Enjoy the unique flavor and beautiful hue of Butterfly Pea Tea, and experience the many health benefits it offers.
Single Ingredient: Butterfly pea. 

Organic, vegan, non-GMO, naturally caffeine-free


~ Floral Confetti!
A subtle, but important touch to decorate the body of the gift.
100% locally grown & dried flowers
Everything comes ready-to-gift, all wrapped up in our Green & Bean compostable gift box!
Share
View full details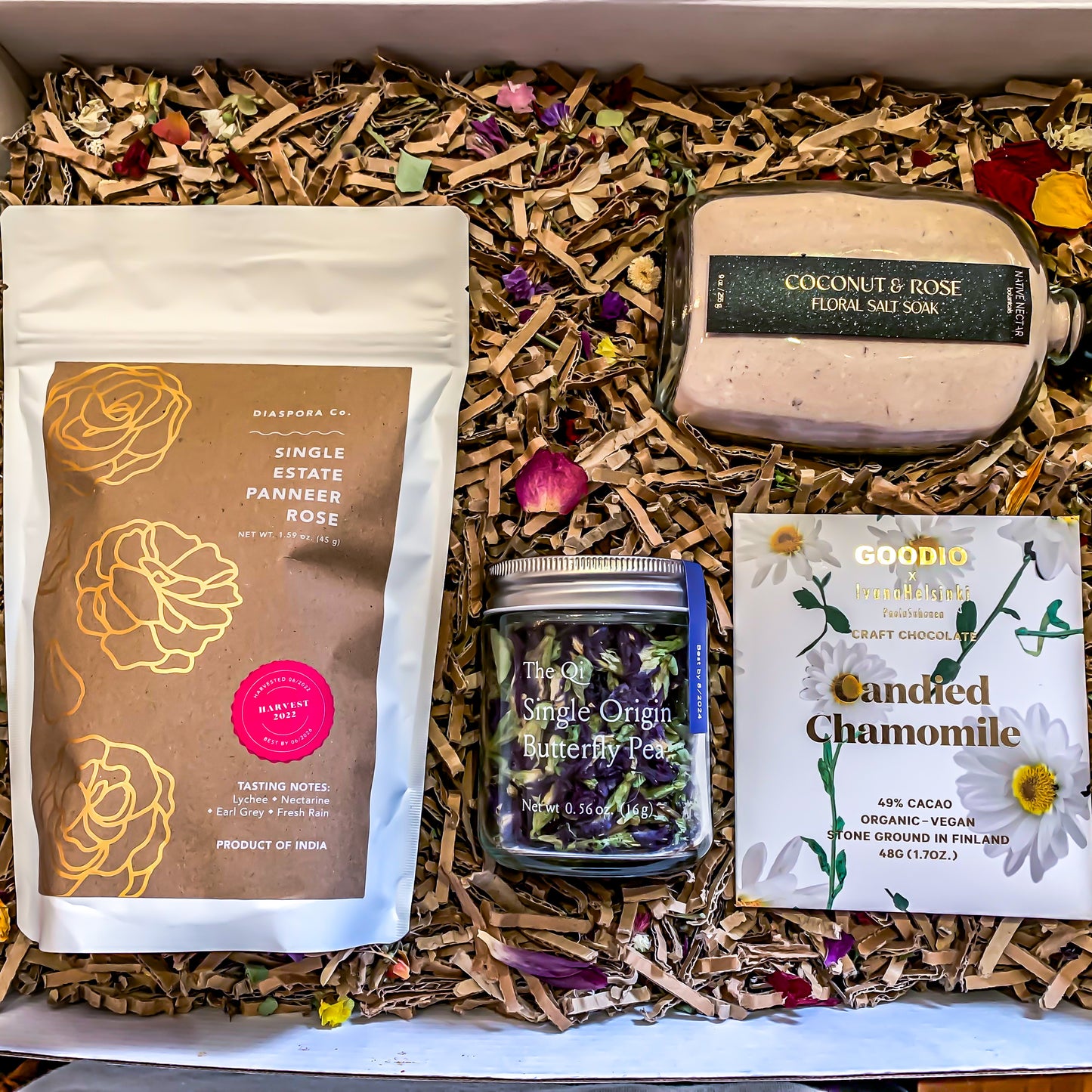 Want to add a greeting card?
All greeting cards 25% off with the purchase of a gift box (discount automatically applied)