Green Bean Boutique
Regular price
Sale price
$82.00 USD
Unit price
per
Sale
Sold out
A classic self-care set to help reset & rejuvenate the body and the mind. We chose a blend of items meant for pampering and paired it with a guided journal for introspection and mindfulness.
For anyone who is looking for a little more of a work-life balance, starting a new chapter of life, or generally hoping to integrate more mindfullness into their day-to-day.
Perfect Gift For:  Graduations, Care Package, Employee Appreciation, Birthdays, New Mothers
Gift Set Includes:
~  (1) For Now: A Journal for Ordinary Moments by Ordinary Habit
Ordinary Habit believes in slowing down to create space for daily rituals. Within these pages you'll find original writing prompts that can be completed at any time and in any order. From answering questions, to making lists, to leisurely doodling, this guided journal encourages you to pause, reset, and reconnect with the world around you. 120-page guided workbook filled with written prompts meant to help you notice and reflect upon the small details that make up your day.
~ (1) Spearmint & Lime Shower Steamers by Thulisa Naturals
Enjoy the crisp, fresh citrusy scents in your shower with our limited edition spearmint and lime shower steamers! The scent of spearmint and lime essential oils leave you feeling relaxed and peaceful. The clear bags we use to package our shower steamers and fizzy bars are made from PLA and are certified compostable. PLA is a plant-based compostable bioplastic derived from plant sugars. 1 box contains 4 shower steamers. Each shower steamer tablet lasts approximately 2 showers.
Ingredients:  Bicarbonate (Baking Soda), Citric Acid, Zea Mays (Corn Starch), Lime Essential Oil (Citrus Aurantifolia), Spearmint Essential Oil (Mentha spicata ), Safflower Oil (Capric Triglycerides)
~ (1) Matcha Latte Chocolate by Dirty Bean Chocolate
Ceremonial matcha green tea infused in single-origin Venezuelan cacao for an adaptogenic chocolate experience. Vegan, direct trade chocolate, sweetened with coconut sugar. Dirty Bean Chocolate draws inspiration from ancient chocolate-making practices, contemporary mixology and modern nutritional science.
Ingredients: Cacao beans, coconut sugar, cacao butter, rice powder, matcha
~ (1) Nail Polish in "Artichoke" by J.Hannah
Architectural flower. Tender heart. Hearty green.
J. HANNAH nail polishes are inspired by the artist's palette and natural elements. A line of carefully-edited, high quality polishes for the color-resistant. Polishes that consider the gracefulness of hands, and the role of subtle color as an element in the considered wardrobe. All polishes are non-toxic, cruelty free and made in the USA. 
Everything comes ready-to-gift, all wrapped up in our Green & Bean compostable gift box! 
Share
View full details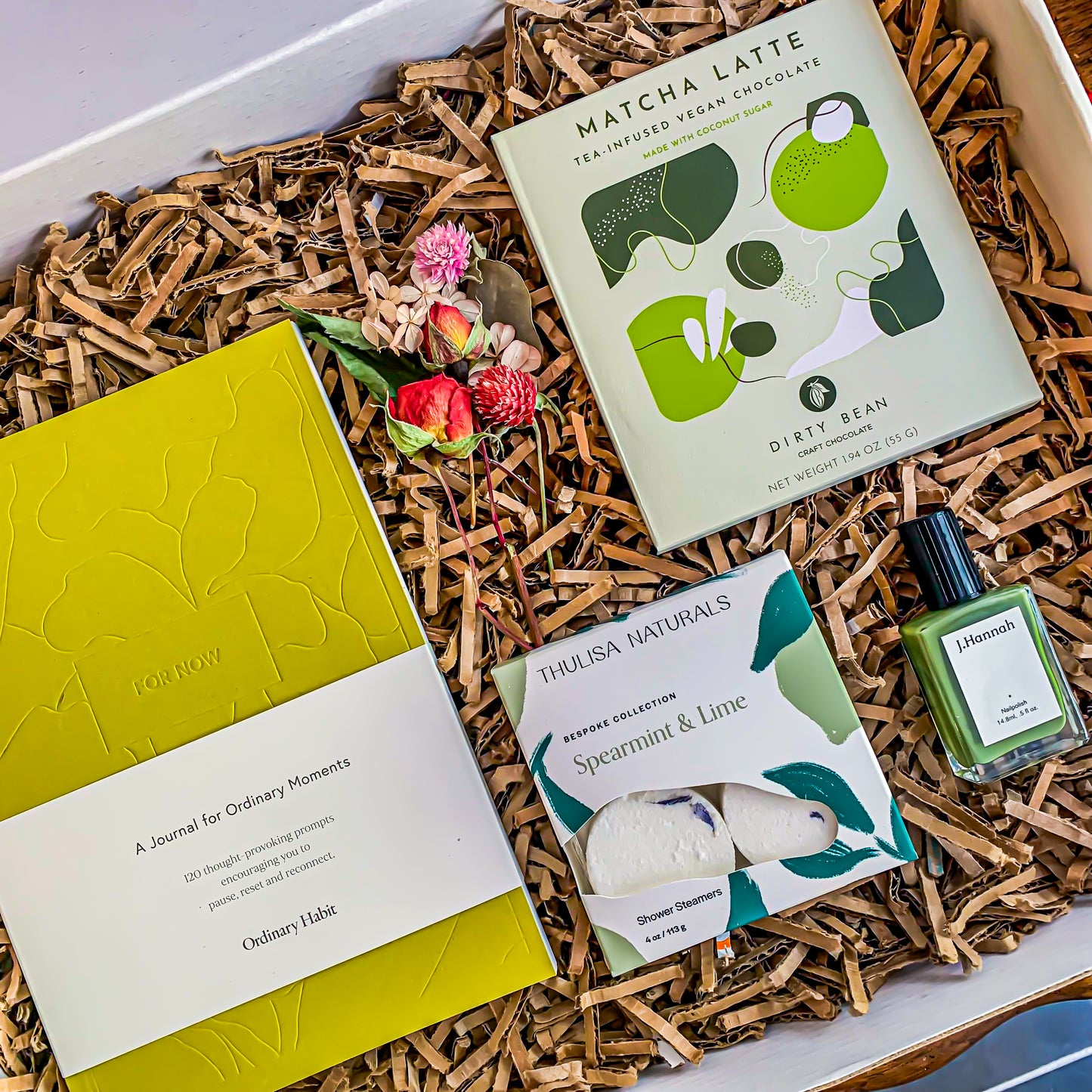 Want to add a greeting card?
All greeting cards 25% off with the purchase of a gift box (discount automatically applied)