Green Bean Boutique
Regular price
$115.00 USD
Regular price
Sale price
$115.00 USD
Unit price
per
Sale
Sold out
With a mushroom themed puzzle, a gingham pouch, and a plantable seed card, this unique gift set is ideal for anyone with a budding interest in mushrooms, foraging, and the world of fungi.
The gingham pouch features a breathable lining that actually lends itself perfectly for any foraging expositions.
Perfect for: Mushroom enthusiasts & mycologists! Birthdays, Congratulations, Science Majors
Gift Box Includes:
~ (1) Magic Forest 1000 Piece Puzzle by Ordinary Habit
Tiptoe amidst a magical forest, with mushrooms nearly double your size along the path. This scene by La Jeanette will transport you to another world, and into a dreamscape with an incredibly soothing color palette that is a feast for the eyes.
– 1000 piece puzzle
– Completed Size: 26.9" x 18.9"
– Box Size: 10.5" x 8" x 2.75"
– Puzzle is finished with a soft-touch, glare-free coating
– Drawstring cloth bag and artwork postcard included
~ (1) Fly Agaric Plantable Seed Card by the Bower Studio
These greeting cards feature original illustrations by the Bower Studio. They are printed on plantable cream-colored paper, which is embedded with wildflower seeds and made from post-consumer waste.
To plant the paper, cover it with 1/8" of soil in full to partial sun and keep moist until the seeds establish.

The seeds include Bird's Eye, Clarkia, Black Eyed Susan, Sweet Alyssum, Catchfly and Snapdragon.
~ (1) Gingham Pouch Bag in Pecan by Dans le Sac
This pouch bag lined with a waterproof membrane is as convenient in the kitchen to keep your mushrooms fresh from forest to kitchen.
Multi-use, it's our reusable go-anywhere bag for storage! This PUL lined bag keeps your mushrooms soft & fresh even longer! All you need to do is put your mushrooms (foraged or otherwise) inside the bag and close it with the double string.
Share
View full details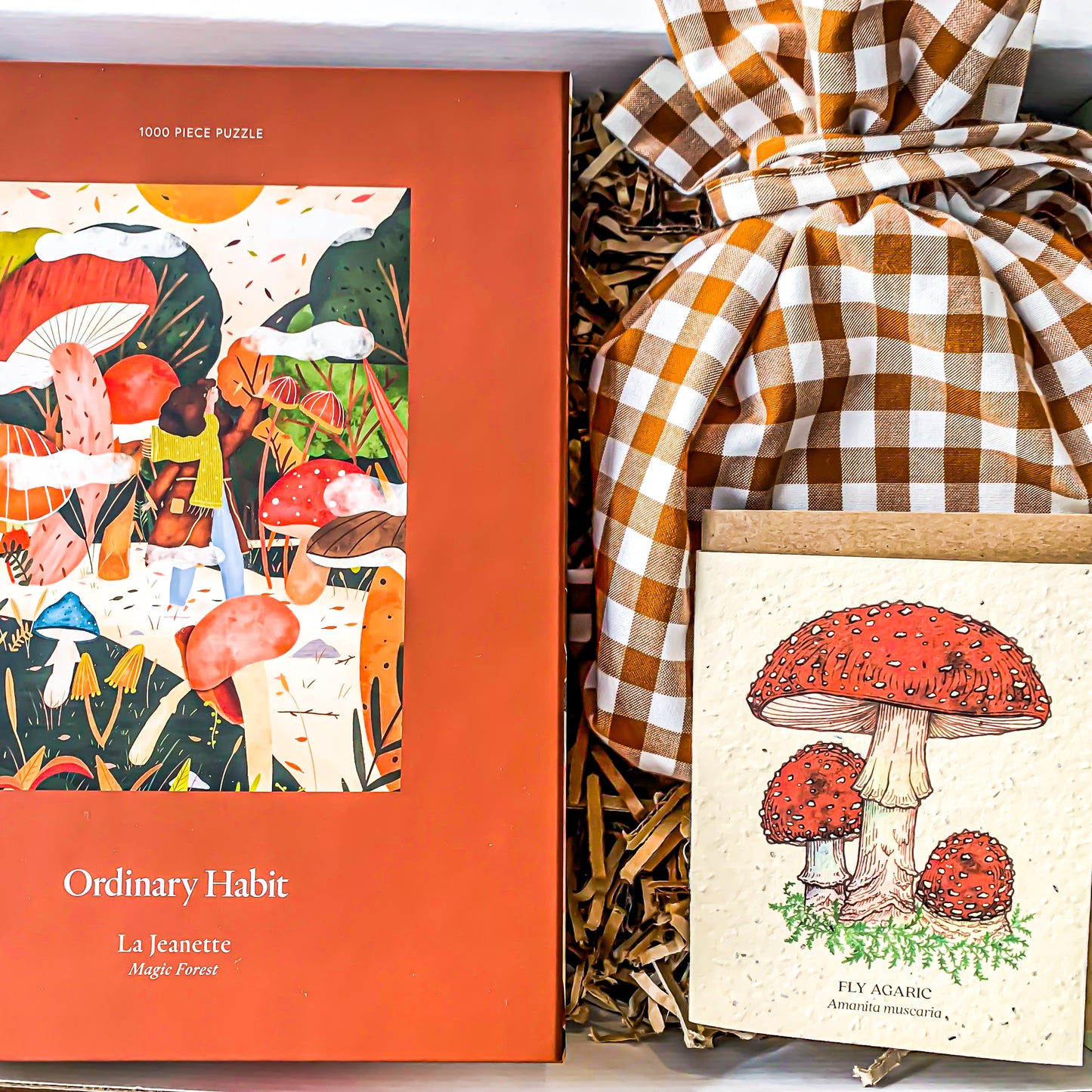 Want to add a greeting card?
All greeting cards 25% off with the purchase of a gift box (discount automatically applied)