Green Bean Boutique
Regular price
Sale price
$52.00 USD
Unit price
per
Sale
Sold out
This lavender-inspired gift set celebrates lavender in many forms so that all of the senses can enjoy. Lavender is known to promote relaxation and is a symbol of calm, serenity, and peace.
With a decadent lavender chocolate, a bath soak with lavender essential oils, and a lavender/lemongrass candle, Lavender Fields Forever is the perfect self-care set for anyone with a particularly affinity for lavender.
Perfect Gift For: thank you, graduation, client appreciation, birthday, housewarmings, and even an anniversary!
Gift Box Includes:
~ (1) 8.5oz "La Luna" Soy Wax Candle by Wonky Wicks
A humble offering to La Luna, the mystic moon, the ethereal glow of night. The soothing touch of lavender sits on top of musky patchouli, earthy pine, and smoky black pepper for a nighttime scent that's cleansing and calming without being sedative.
100% Soy Wax Candle made with essential oils. Handmade in Maryland in small batches with recycled bottles. No paraben & phthalates, no toxins or chemicals, no dyes, no synthetics.
~ (1) Lavender Chocolate by Goodio
Goodio x Ivana Helsinki is a unique collaboration between two Finnish indie brands. Embrace the Northern oddity and distinctive design with the exclusive craft chocolates designed together with the Ivana Helsinki Flower Fields Forever -collection. 
Ingredients: Cacao beans*, Coconut palm sugar*, Cacao butter*, Coconut flakes*, Birch sugar (Xylitol), Lavender*. (*Organic). May contain traces of nuts (cashew).
~ (1)"Sweet Dreams" Therapeutic Bath Soak by Native Nectar Botanicals
Take your bed time ritual to the next level with a blend of mineral rich salts including Epsom and Dead Sea Salts, to soothe and relax muscles while essential oils of Lavender, Sweet Orange and Chamomile quiet the mind and prepare you for sleepy time bliss! Taking mineral rich baths have been shown to reduce muscle soreness and tension, remineralize the body, decrease stress and aid the body in detoxification.
Ingredients: Dead Sea Salt, Epsom Salt, Pink Himalayan Salt, Proprietary blends of pure essential oils.
~ (1) Dried Lavender Sprig Bundle to Garnish
Everything comes ready-to-gift, all wrapped up in our Green & Bean compostable gift box!
Share
View full details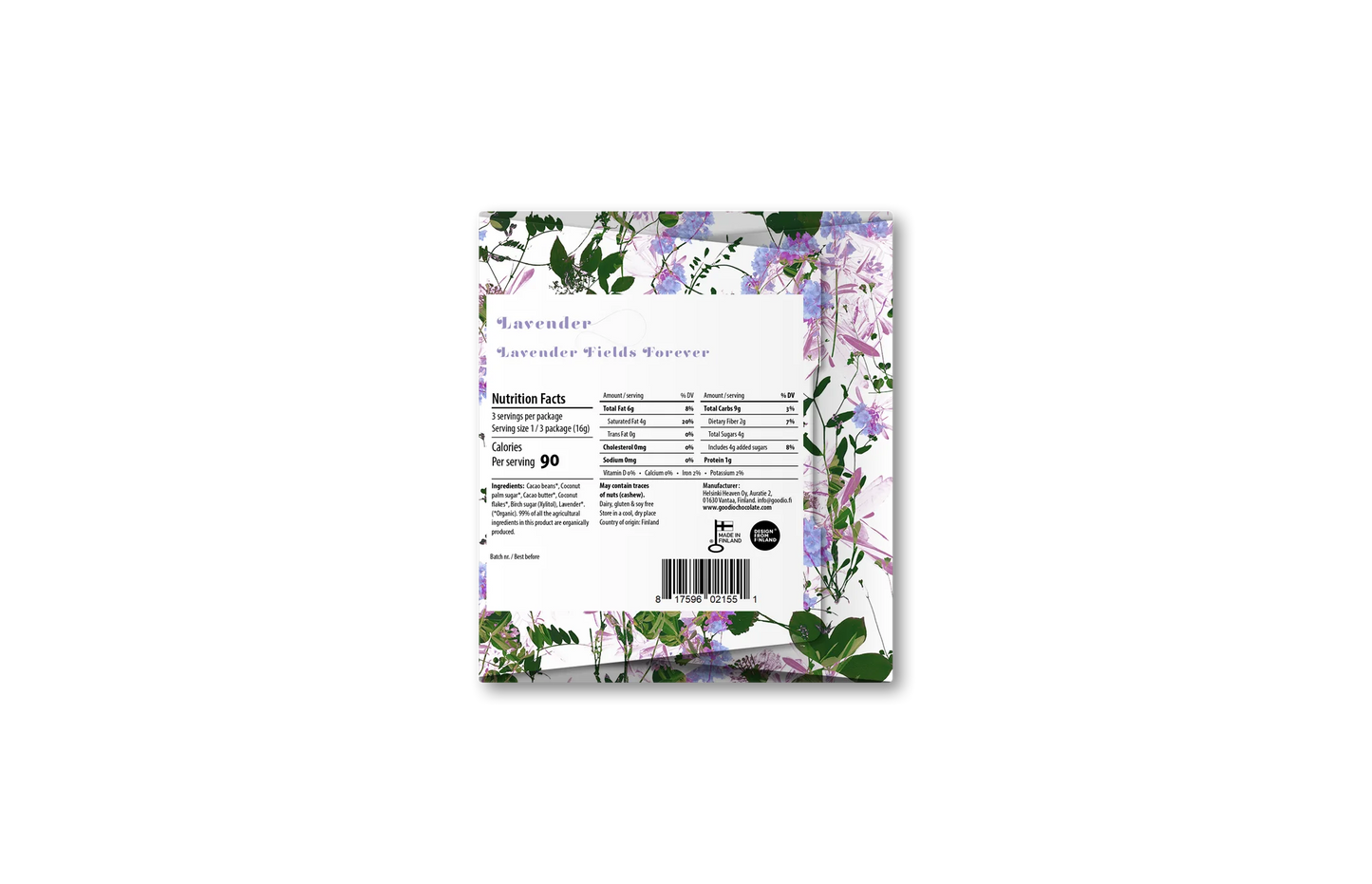 Want to add a greeting card?
All greeting cards 25% off with the purchase of a gift box (discount automatically applied)