Green Bean Boutique
Regular price
Sale price
$52.00 USD
Unit price
per
Sale
Sold out
Perfect for: Birthdays, Thank Yous, Coworkers, Colleagues & Clients, Care Packages
Gift Box Includes:
~(1) Panneer Rose by Diaspora Co.
These magenta-hued Panneer Rose petals, also known as Damask Rose, are organically grown on a small farm led by Parvathi Menon in Denkanikottai, Tamil Nadu in southern India. These whole rose petals are fragrant with floral and fruity notes that are reminiscent of lychee and nectarine.
The bright pink Panneer Rose petals make an eye-catching garnish for cakes and cookies as well as savory dishes. The petals can also be steeped as a tea or infused in deserts.
Net Weight:  .84 ounces (24 grams)
~(1) Cardamom & Vanilla Shower Steamers by Thulisa Naturals
Transform your shower into a cozy spa experience with our spicy and warm Vanilla and Cardamom blend. This scent makes the perfect indulgence after a long Fall day.
•Each box contains 4 Cardamom vanilla shower steamers
•Handmade with natural ingredients in Fairfax, VA 
•Recycle and compostable packaging
~(1) Baraka Green Cardamom by Diaspora Co.
Grown by the Chacko family amidst black pepper, coffee, and flowers on their estate turned wild food forest!
As a pioneer in the natural farming movement, Mr. Chacko is one of the only farmers that has been able to domesticate a wild cardamom variety that thrives without pesticides, and is still beautifully aromatic!
Everything comes ready-to-gift, all wrapped up in our Green & Bean compostable gift box!
Share
View full details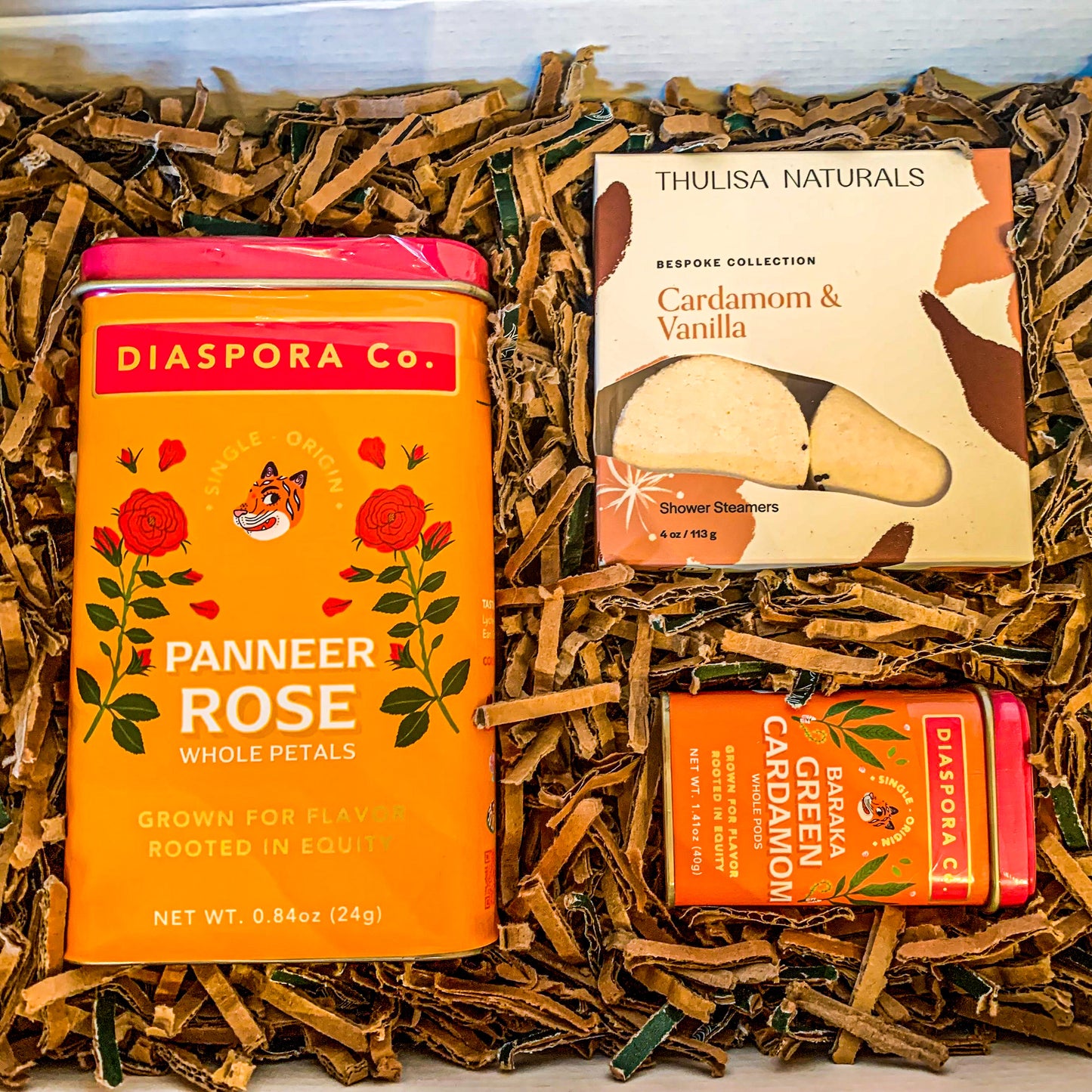 Want to add a greeting card?
All greeting cards 25% off with the purchase of a gift box (discount automatically applied)